The Free Instagram Followers App That Works
Note: Not interested in the details and just want a free Instagram followers app that works? Click here.
---
AiGrow is a free Instagram followers app you can set up and start using to get real Instagram followers within minutes.
Unlike many other similar tools that just offer bulk follower services, AiGrow works to automatically get the attention of your target audience, drive them back to your Instagram page, and ultimately convert them to followers.
This means that all followers generated by AiGrow are real people who are actually interested in your Instagram page.
Here's how to use AiGrow to get free Instagram followers in four steps:
The first step is to sign up for AiGrow for free.
After signing up for AiGrow, start getting followers by following the steps below: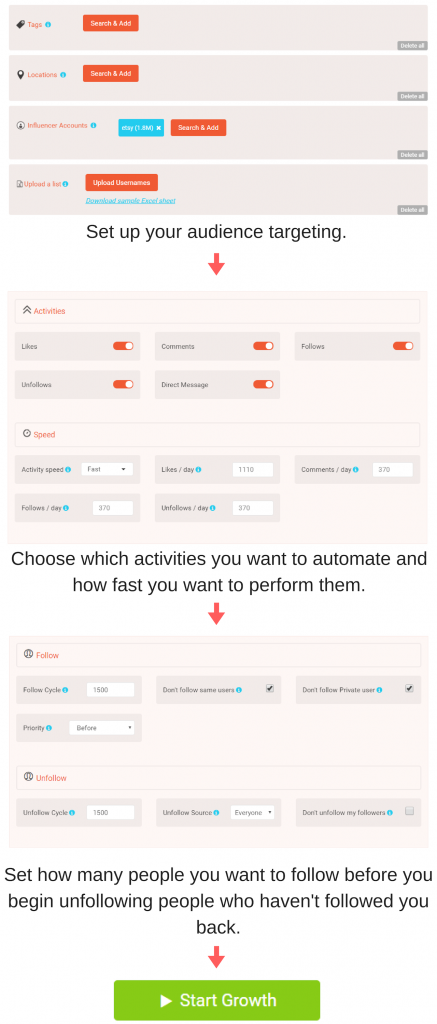 How it works
You can automatically Like and comment on posts, as well as follow and unfollow users on Instagram based on:
hashtag
location
follower of competitor
list of usernames
You can also automatically DM users based on:
hashtag
new followers
current followers
follow of competitor
list of usernames
After hitting "Start Growth", AiGrow will then begin automatically engaging with posts owned by people who fit your targeting.
You can stop growth any time you want and AiGrow will never start or stop without your permission.
AiGrow will also engage with multiple posts on the same Instagram page to increase the chances that people see your engagement, check out your page in response, and ultimate follow you.
You also never have to worry about overstepping Instagram's daily limits. AiGrow works to automatically get the most new followers every single day without going over Instagram's action limits.
See the video below to see AiGrow's set up in action:
In addition to just automated engagement, you also get full access to:
Desktop DM inbox (free even after the trial ends)
Desktop post and Story scheduler (free even after the trial ends)
300+ Instagram engagement groups catering to almost every possible niche (photography, fashion, pets, business, sports, luxury, artist, etc.)
Customizable speed
While most free Instagram followers apps generate your followers instantly, this isn't actually a good thing. To your current followers, a bump of a 1000 followers overnight is a red flag that your followers are fake.
To other parties examining your page, such as advertisers, an instant bump in followers looks equally as bad.
With AiGrow, because you can adjust the speed of your actions, you can control how fast you gain your followers.
For newer, smaller accounts, you can use Slow-Normal speed to mimic the natural behaviour of a new Instagram account. For older, larger accounts, you can go straight to Fast speed.
Note: even if you have a newer, smaller account, you can still use Fast speed.
Real followers who are interested in you
The best part is that the follows come from real people. Often times, when you buy Likes in bulk, the Likes are from inactive, unrelated, or completely fake accounts.
When you use a tool like AiGrow, all new followers are real people in your community.
Real followers stick around, listen to what you have to say, buy things from you, share your posts, tag their friends in your posts, and do many other things to help you and your Instagram page.
Fake, inactive, or generally uninterested followers like the ones you typically get when you use other free Instagram follower apps don't do any of these things.
¿Buscas la versión en español? ¡Léelo aquí!
يمكنك قراءة نسخة العربية لهذا المقال هنا
Cherchez(-vous) la version française? Lisez-le ici
AiGrow – the best free Instagram followers app
AiGrow works on all operating systems, doesn't require any download, and continues to get you new followers even when you shut off your computer.
AiGrow is completetly free for 5 days, after which you have to pay to continue using its growth engine. 
However, the desktop DM inbox and post/Story scheduler is stilll completetly free to use after the trial ends.
Sign up for AiGrow, the best free Instagram followers app, and start getting more real followers today!